The optimal platform for wearables and tracking services.
CardioChip is at the heart of a powerful platform that enables leading health and wellness metrics in a way never before practical. That's because NeuroSky's complementary biometric algorithms can take a single CardioChip ECG capture and translate it into an easy-to-understand heart-health index. A single, integrated biosensor with a super-small footprint, easy-to-use SDK, and a portfolio of insightful biometric algorithms, CardioChip is just what you need to develop innovative, behavior-changing solutions and bring them to market fast.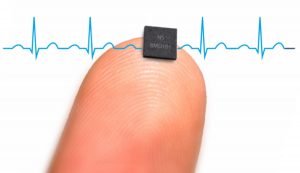 A wide range of device types and applications — from mainstream to the next Big Thing.
NeuroSky's technology platform enables biometrics at the forefront of today's consumer focus on body fitness and wellness — the kind of biometrics that do not require medical diagnosis or regulatory approval. However, NeuroSky also works closely with partners to tailor specialized solutions for regulated mHealth applications. Whatever the application, people interested in cardio health can rely on our biosensors to deliver accurate metrics through the advanced products developed by our OEM, ODM, and service provider partners.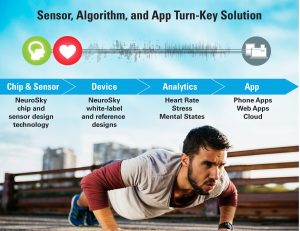 Biometrics that make a difference.
mHealth solutions based on the NeuroSky cardio platform can help you develop wearables, apps, and mobile devices that stand out in the marketplace by delivering the advanced biometrics consumers really want:
Stress
Heart Rate
Heart Rate Variability
Fatigue
Heart Age
Breathing Index
Mood
Heart Rate Index
And More Coming Soon!
Learn more about these biometric algorithms
For pricing and availability contact [email protected]