Wearable and mobile device technology is quickly emerging as the premier way for consumers to track their stress levels on a day to day basis. Thanks to devices enabled by ECG biosensors, users are able to obtain accurate data over time that is essential for identifying stressors to be able to combat them effectively. Of course, while this data is invaluable, it would be difficult for the average person to interpret without powerful ECG algorithms that compile and display it in an easy to understand manner. In this post, we'll touch on how ECG algorithms track stress, as well as show how wearable and mobile device users can use this data to create long term positive change in their health and lifestyles.
Tracking Stress With ECG Algorithms
NeuroSky's algorithms work in concert with biosensors to track heart rate (HR) and heart rate variability (HRV), both of which are used to determine stress levels. While the biosensor collects the data, it is the algorithm that interprets it and transforms it into something that is easy to visualize and comprehend. 
When a user makes the decision to begin tracking their stress levels with a wearable or mobile device enabled by ECG biosensors and algorithms, the first thing they need to do is input some basic information, includes things such as name,  age and gender. After this, they will need to take their first reading. Since the initial reading is being used to establish a baseline, it is a good idea for the user to take it in a low stress situation, such as when they first wake up. The algorithm will begin to adapt intelligently and establish a true, unique baseline over the course of next several readings. From here, the user will begin receiving accurate messages based on their stress tracking results. The table below is an example of such stress readings.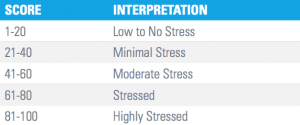 These numbers provide instant feedback to a user, meaning they can quickly determine if a situation is causing added stress at any given time.
Meeting Long Term Goals Through Stress Tracking 
Not only can tracking stress levels give users accurate information in the moment, it can also help them see change occurring over time. The graphs below illustrate these long term trends. To the left, we see data indicating that over a number a months, this person has lowered their stress levels through a series of proven stress management techniques. These techniques can include making changes to exercise routines, sleeping habits, diet, and other behaviors. On the right, we see data that indicates this user's stress levels are on an upward trend over time. Implementing stress management techniques could help bring this person's stress levels down, which would also be documented on this graph as time goes on. 
Change that a user can see is a great motivator. Wearable and mobile devices enabled by ECG sensors and algorithms help give users a clear picture of their stress levels in the moment, as well as over extended periods. Combined, this information can be harnessed to help users who track their stress levels achieve their health goals. 
For more information on how ECG algorithms can enable wearable and mobile devices that help users track stress, download the free whitepaper, Enabling Accurate and Reliable Stress-level Measurements with ECG Technologies.