January 30th, 2017
Ever wanted to be a Jedi and move things with your mind?
KFC India
has just the solution for you. Introducing 'Tele-connect to Nashville" – an on-ground experience that gave consumers a chance to pop open a box and unlock the legendary taste of
KFC Nashville Chicken
by using just their minds.
Monday saw chicken lovers queue up at Mumbai's Growel's 101 Mall to test the power of their concentration. Here's how it worked: All consumers had to do was wear Neurosky  – a mind reading headset that monitored their brain activity and analysed their concentration on a scale of 1-100. Consumers were able to pop open the 'Nashville Treasure Box' if their concentration level hit 100.
Legend of Nashville has it that if you challenge your mind and focus your thoughts hard enough, you are sure to be rewarded. True to the legend, KFC had a bunch of surprises in store for consumers. From flight tickets to Nashville, Tennessee, USA; to a year's free supply of finger lickin' good chicken; KFC gift cards or a chance to taste the latest global food trend – Nashville Chicken.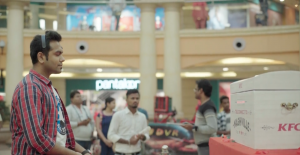 Lluis Ruiz Ribot, Chief Marketing Officer, KFC India said, "We have all heard that our minds can move mountains. Through this fun activation, we wanted to tell consumers that it could help them a trip to Nashville, USA too. In this day and age where our attention spans are lower than a goldfish's, we thought it would be an interesting way to reach to consumers and get them to challenge their minds."
Dooj Ramchandani, Co-founder and Chief Creative Officer, Blink Digital said "A new wave of tech such as facial recognition, brainwave readers and biometric sensing can now discern deeper truths about the hidden self. With 'Tele-connect to Nashville', we were able to shape an experience that helped our consumers connect with facets of their personality that not only brought them closer to the brand but also to themselves."
KFC has introduced "Tele-connect to Nashville" in Mumbai to start with, and plans to roll it out in other cities as well.
The intensely flavored with a hint of smokiness, mildly spicy, extra crispy, and topped with tangy American pickles, KFC Nashville Chicken is available at a KFC near you. You can also get your hands on the new KFC Nashville Chicken by ordering online at https://online.kfc.co.in/ or calling 3399 4444.
Video Link – https://www.youtube.com/watch?v=pfsERLVD5fc&feature=youtu.be
About KFC
KFC Corporation, based in Louisville, Ky., is the world's most popular chicken restaurant chain with more than 19,000 KFC outlets in 130 countries and territories around the world. KFC Corporation is a subsidiary of Yum! Brands, Inc., Louisville, Ky. (NYSE: YUM.). In India, KFC offers this international experience in over 301 restaurants across 81 cities. Some of the KFC favourites in India include Hot & Crispy chicken, Chicken Zinger, Veg Zinger, Rice Bowlz and the Krushers range of beverages, amongst others.
About Blink Digital
Blink Digital is an award-winning, full service digital agency based in Mumbai. Established in 2009, Blink Digital lies at the intersection of creativity, technology and media to create innovative experiences for brands that help them realize their greatest ambitions in a post digital, consumer controlled world. Blink Digital has been awarded the prestigious CLIO Awards and the Webby Awards for their campaigns on Star Sports Pro Kabaddi League and KFC WOW @ 25.