Mobile health, also known as mHealth, empowers everyday people to take control of their health through the use of smart devices. Today, adults primarily reap the benefits of collecting health-related data through smart devices, but with Generation Z being the most technologically adept demographic, there's a significant opportunity for mHealth technology to support children and adolescents by helping them improve health outcomes.
mHealth is Easily Integrated by Tech-Savvy Youth
Today's youth are largely unable to remember a time when mobile devices and technology weren't a part of daily activities. Adolescents use mobile technology to track schedules, responsibilities, and with the emergence of new mobile health apps and devices, health-related behaviors.
Recent studies conducted by researchers from the University of Florida and the University of Kansas found that mHealth interventions have the capacity to influence health-related behaviors in children and adolescents. For the study, researchers analyzed 37 studies of mHealth interventions for health concerns ranging from immunizations and diabetes to asthma. The studies used mHealth in various ways, including sending personalized reminders to the participants, recording disease symptoms, and offering interactive feedback.
The study's lead author, David Fedele, Ph.D., believes mHealth interventions have great potential, giving pediatric health care providers a potentially effective option for dealing with young patients, or helping parents treat their children. Coauthor of the study, Christopher Cushing, notes that mobile health technology can go in many directions. Something as simple as a text message reminder, or something as complex as a dedicated app that tracks medical data, can be highly beneficial to health care providers, their young patients, and parents.
An overwhelming percentage of individuals have access to mobile devices, meaning mHealth interventions actually have a greater reach than in-person interventions. mHealth allows patients to collect health-related data outside of a clinician's office, providing a more accurate view into how a patient reacts in their natural habitat. The technology also allows patients to collect data over a longer period as opposed to on-the-spot in a clinician's office.
Changing Wellness Outcomes Through EEG Technology
There are a variet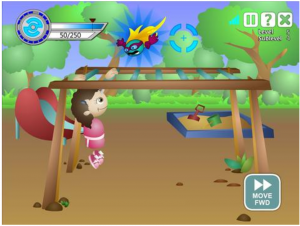 y of mobile apps that encourage children and their parents to keep wellness top of mind, especially when it comes to coping with ADHD. Apps such as Kidzen, Minds in Space, and, Super Powers for Super Kids are designed to help children relax, concentrate, and improve performance during daily activities, including academics. These apps work with MindWave Headsets, which use EEG biosensor technology to detect faint brainwave signals, and interpret them to cause various effects in the app. For children, it's second nature to blend technology with everyday life, and for parents, it's a valuable opportunity to support their children and help them gain more control over their concentration and attention levels.
The Future of mHealth
When it comes to mHealth, Dr. Fedele believes today's technology only scratches the surface. Studies show mHealth is a valuable approach—but what's next?
There's opportunity in the technology community to utilize EEG technology to improve health outcomes, and now it's been established youth and adolescents, in particular, can benefit from such technology.
As far as features or focuses for developers, Cushing claims a key finding in recent studies was that parents should be involved in technology available for children and adolescents. Parents can collaborate through the use of mobile health devices, allowing them to take advantage of teachable moments brought to their attention through collected data. This is also favorable for developers, enabling them to reach more users.
Using EEG Technology to Improve Health and Wellness
Shop now in our online store to discover the many apps created specifically for children, with a focus on improving concentration and self-control. Browse the apps and discover the many benefits mHealth technology can provide. Many of our featured apps work with our MindWave EEG headsets, which are top of the line and among the most affordable on the market. 
Do you have an idea for an mHealth app or device? By integrating EEG biosensors, you can create technology that acquires information from brainwaves and presents it as concrete data. To get started, get our Introductory Guide to EEG & BCI for Entertainment. Discover more about how EEG technology works, and contact us to brainstorm about how you can use it to become a part of the future of healthcare.